Framework which guides the service 
The World Health Organization's 2007 International Classification of Functioning, Disability and Health: children and youth version (ICF-CY) demonstrates a biopsychosocial framework for health applicable to everyone regardless of diagnosis. The Spina Bifida service uses this model as it moves away from the traditional medical model which focuses on the diagnosis being the primary cause of disability. We chose this model for the following reasons:
It highlights activity and participation as being fundamental in the lives of people with Spina Bifida. Improving activity and participation for all children is at the core of our work.
It supports family-centred services. The Spina Bifida team acknowledges that children with Spina Bifida and families are experts by experience and are co-producers of health. The Spina Bifida team works in partnership with the child and their families along with local services which are also family centred. 
It supports children and their families by using a holistic approach to optimise meaningful functioning and participation in everyday activities. 
It is applicable to people with Spina Bifida throughout their life.  
The ICF Framework along with the "F-words in childhood disability" leads us to focus beyond the individual child to the child in family by integrating the F words (Fun, Fitness, Function, Friends, Family, and Future) when planning programs and services.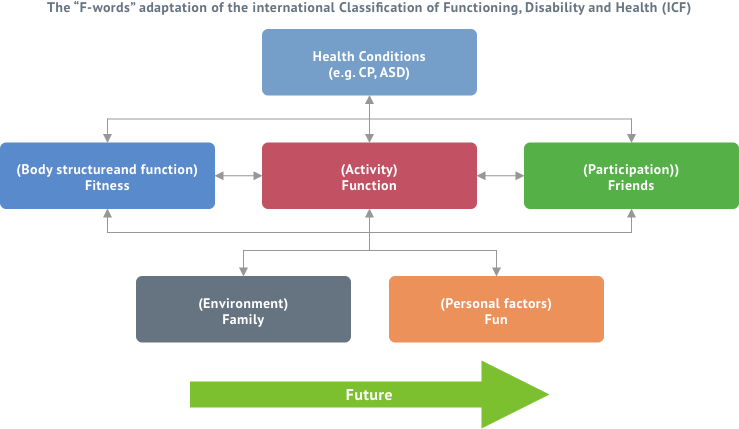 Spina Bifida Model of Service Delivery for Children and Adolescents 
Children with Spina Bifida will access their services through Primary Care services and/or the Network Disability teams. There are currently national access referral criteria which the network disability teams use to determine if your child's needs are non complex or complex. If your child's needs are assessed as being complex  he/ she will access the disability team, and if non-complex the primary care team. It is important to note that children can transition from disability teams to primary care services if their needs no longer present as complex. 
Disability teams include a Physiotherapist, Occupational Therapist, Speech and Language Therapist, Psychologist, Social Worker and access to Orthoses. Some teams have also access to Nurses. While primary care paediatric services e.g. Occupational Therapy, Physiotherapy, mainly work independently at present the national vision is for the roll-out of primary care teams. The vision of Slainte healthcare is that "a new plan for the organisation and operation of community care services will be developed, building on work already underway to develop Community Healthcare Networks and primary care teams". The majority of the needs of children with Spina Bifida who have access to these teams will be addressed close to home; this is consistent with international best practice. 
The Spina Bifida MDT service aims to review children on an annual/biannual basis, depending on complexity of care. In the cases of outpatient appointment or an acute hospital admission children with Spina Bifida will attend CHI at Temple St for episodes requiring specific specialist intervention, with discharge back to community-based care when required.